4 Amazing Benefits of using Video Interviewing Tool in Virtual Recruitment !!  
Are you looking for an effective and efficient way to recruit new team members? If so, then a virtual recruitment program might be just what you need. The use of virtual recruitment programs has been increasing in recent years. A 2021 survey by HR Drive found that over 87% of organizations now use virtual recruitment methods. Companies are finding great success in recruiting through virtual tools, and the trend is continuing to grow. Studies have also found that the average cost-per-hire for virtual recruiting is much lower than traditional methods. In the same survey, 87% of respondents said they saw savings on their recruitment costs when they switched to a virtual recruitment program. Additionally, 62% of those surveyed said they have seen an increase in overall quality of hires since switching to virtual recruiting.
These statistics clearly show that virtual recruitment programs can be an effective way to recruit top talent. With lower costs and improved hiring quality, companies can get the most out of their recruitment efforts. In this blog post, we will explore the top benefits of using a virtual recruitment program.
Why virtual recruiting becomes trendy nowadays?
Virtual recruitment has become an increasingly popular way for employers to find and hire the best talent for their business. In today's world, technology has revolutionized the way we communicate and search for jobs. With the rapid advancements in technology, virtual recruitment is now a more efficient, cost-effective, and convenient way for businesses to locate and recruit the perfect candidates.
What's more, virtual recruiting eliminates geographical boundaries which means that employers have the ability to recruit from anywhere in the world. This opens up new opportunities for businesses to find talent from different backgrounds and experiences which may not have been available otherwise.
The rise in virtual recruiting is also a result of changes in job seeker preferences. With the emergence of remote working, more people are seeking out flexible jobs that allow them to work from home or on their own schedule. Virtual recruitment makes it easier for employers to cater to these preferences by connecting with potential candidates who may be geographically distant or unable to commit to full-time employment.
Overall, virtual recruitment offers numerous advantages over traditional methods and has allowed employers to access talent that they may not have been able to locate before. As technology continues to evolve, virtual recruiting is sure to become even more popular in the future.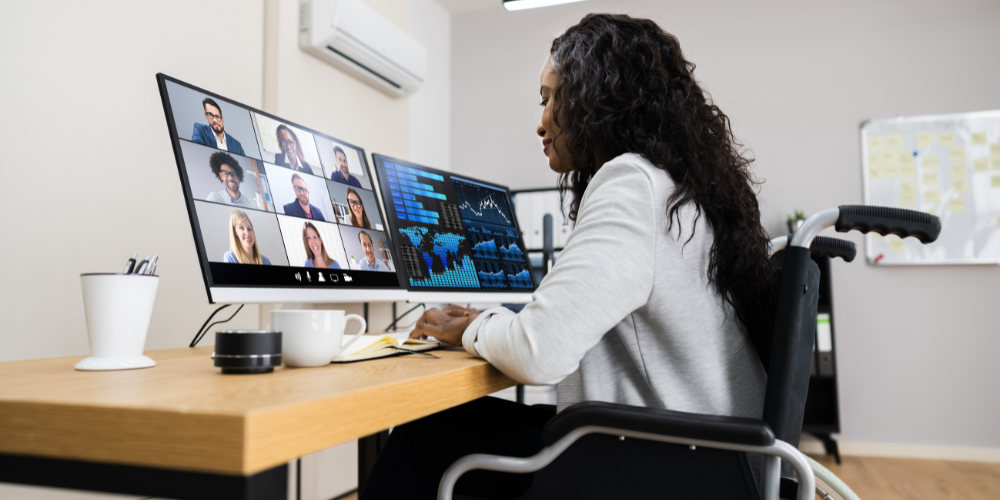 Benefits of Video Interviewing in virtual recruitment
Virtual recruitments are becoming increasingly popular for a variety of reasons. There are many advantages to virtual recruiting that make it an attractive option for employers and job seekers alike. Let's explore some of the top benefits of virtual recruitment and how SquaREcruit can help you take advantage of them. 
Extend Your Reach: One of the greatest advantages of using a virtual recruitment program is the ability to extend your reach to a wider pool of potential candidates. By utilizing virtual interviews, companies can connect with applicants who may not be geographically located near their offices. This allows businesses to find the best fit for their organization, regardless of where the applicant resides. SquaREcruit makes it easy for recruiters to search for candidates worldwide, and efficiently schedule video calls with them.
Scheduling Is More Seamless: Scheduling onsite interviews can be a difficult task, especially if there are multiple applicants who must be seen in a short amount of time. With a virtual recruitment program, scheduling is far more seamless and efficient. Recruiters can easily schedule video calls with multiple applicants at once without having to worry about the logistical difficulties of onsite interviews. SquaREcruit helps to streamline this process with its intuitive calendar and scheduling tool.
It's Easier For the Interviewer To Review Resumes and Take Notes: Virtual recruitment programs also make it easier for the interviewer to review resumes and take notes during interviews. With an online platform such as SquaREcruit, recruiters can quickly access resumes, make notes and store them in a secure cloud-based database for later review. This eliminates the need for messy paperwork or lengthy manual reviews.
SquaREcruit's innovative in-built Video interview offers a split screen and Auto or manual recording features which enable the interviewer to make better informed decisions by easily reviewing the video recordings. The features available in SquaREcruit's Video Interview platform makes virtual interviewing more efficient and easier than ever before.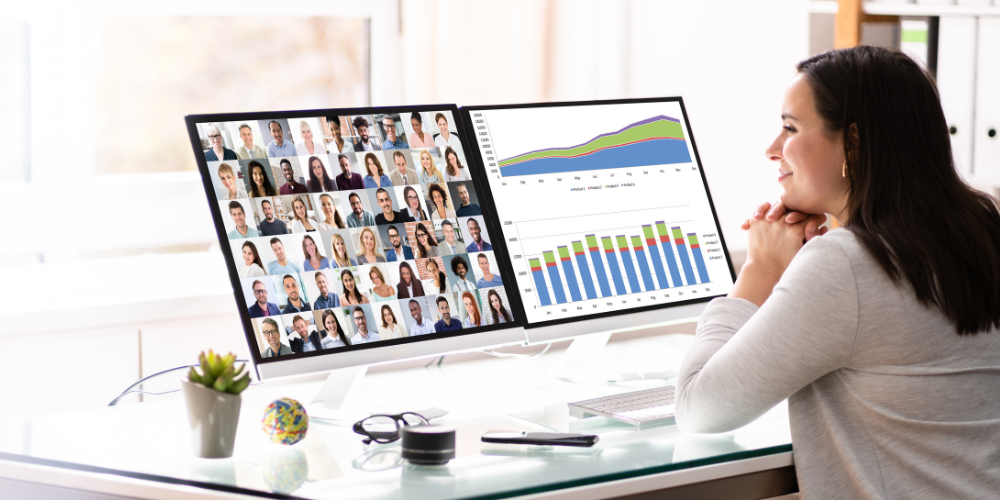 Overall, virtual recruitments are an effective way for employers to source top talent quickly and efficiently, no matter where they are located. SquaREcruit is a powerful tool that helps recruiters take full advantage of virtual recruitment technology, streamlining their process and simplifying their workflow.
Conclusion
Virtual recruitments are becoming increasingly popular as companies strive to streamline the hiring process. By using a virtual recruitment program, organizations are able to extend their reach and make scheduling more seamless. Additionally, it's easier for the interviewer to review resumes and take notes during the interview process. SquaREcruit's innovative in-built Video interview offers a split screen and Auto or manual recording features that make virtual recruiting even easier. Virtual recruitment is a powerful tool for businesses looking to get ahead of the competition and find the best talent for their teams.
Are you looking for an effective and efficient way to recruit new team members? If so, then a virtual recruitment program might be just what you need. The use of virtual recruitment programs has been increasing in recent years. A 2021 survey by HR Drive found that over 87% of organizations now use virtual recruitment …
Are you looking for an effective and efficient way to recruit new team members? If so, then a virtual recruitment program might be just what you need. The use of virtual recruitment programs has been increasing in recent years. A 2021 survey by HR Drive found that over 87% of organizations now use virtual recruitment …